Refrigerated Cargo Service
Seaboard Marine employs a fleet of over 10,000 refrigerated containers, both 20′ and 40′, assigned explicitly to perishables that are monitored and maintained around the clock. These containers use only ozone-friendly refrigerants. Our procedures focus on time-sensitive issues that relate to your perishable cargo throughout its entire journey. Our containers are equipped with cold treatment technology and controlled atmosphere.
Cold Chain Integrity
For nearly four decades, Seaboard Marine has transported fresh and perishable cargo between the United States, Caribbean Basin, Central and South America. Whether you are shipping produce such as asparagus' which requires quick transportation and fumigation, fruits such as grapes, which require a sanitary certificate, meats, seafood, pharmaceuticals, and more, we are equipped to handle your cargo. Roses and mixed flower imports can be inspected at our state of the art cold chamber facility, within our PortMiami terminal. Our modern refrigerated containers ensure your shipment's cold chain integrity from the beginning of its journey to the final destination.
Cold Chamber & Refrigerated Plugs
Conveniently located within Seaboard Marine's terminal at PortMiami, is an 11,000 cubic feet cold chamber less than a minute from vessel operations. The facility provides a safe, reliable, and temperature-controlled environment for inspections and transfers while maintaining refrigerated cargo's quality and freshness. Seaboard Marine maintains over 430 refrigerated container plugs at our PortMiami facility as we continue to evolve our perishable cargo handling capability.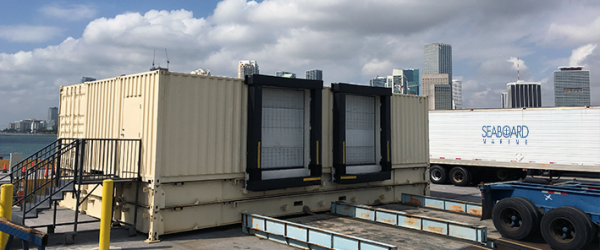 Expedited Clearance
Seaboard Marine has special import departments at all our offices to expedite the clearance of your time-sensitive freight. These departments handle the various documentation required with any refrigerated cargo, for both import and export. We are well versed in addressing the variety of issues posed by U.S. Customs (CBP), the United States Department of Agriculture (USDA), and the Food and Drug Administration (FDA). We also work closely with importers and customs brokers prior to a vessel's arrival so that advanced efforts take place to expedite the clearance process.
Refrigerated Equipment
Seaboard Marine offers a large and comprehensive range of refrigerated containers to meet the requirements of every customer. Our equipment fleet is one of the newest in the industry, which consistently guarantees a high-quality standard. Refrigerated containers equipped cold treatment or controlled atmosphere are available upon request.
Details on dimensions and loading capacities of Seaboard Marine's refrigerated containers are provided in the following specifications: