Miami LCL Cargo Service
Seaboard Marine offers fast and reliable weekly LCL sailings between Miami, FL, and several markets in the Caribbean, Central and South America. Ports we service, include Barbados, Colombia, El Salvador, Haiti, Honduras, Jamaica, St. Maarten, Suriname, Trinidad, and more. Our highly trained staff are ready to handle your LCL freight transportation needs for shipping small packages, barrels, large items, and commercial cargo. Whether you shop in-store or online, deliver your purchase to our Miami warehouse for safe and efficient shipping.
"ONLINE ON TIME"
Deliver your online shipment directly to our warehouse for quick, efficient, and on-time destination delivery.
Miami Warehouse
Seaboard Marine's personalized service is designed to handle all types of customers, both big and small. Our 170,000 square foot off-port Miami warehouse is dedicated to cargo consolidation to efficiently handle customers' LCL cargo, both large and small. This highly secure facility is open 8:00 AM – 5:00 PM to receive less-than-container load cargo destined to the markets we serve in the Caribbean Basin, Central and South America.
Shipping your LCL cargo through Seaboard Marine's Miami warehouse offers a variety of advantages such as the following:
Quick, weekly transit times
Cargo is handled, checked, and consolidated in our warehouse in Miami
Private terminal at PortMiami allows for expedited container loading and unloading
Service to nearly 40 ports in 25 countries throughout the Caribbean, Central and South America
A variety of pick-up, delivery, and drop-ship options
Quick trucker turnaround under 30 minutes
Shop from online retailers and directly ship your item(s) to our Miami warehouse for consolidation. When finalizing purchase, indicate Seaboard Marine's Miami warehouse as the delivery address exactly as it shows below.
Company or Name of Recipient: Name – Country Destination
Address 1: Account Number
Address 2: 8001 NW 79 Ave
Zip code: 33166-9113
Deliver your Items
Our dynamic warehouse is equipped with 50 bay doors to receive cargo throughout the day and offers a dedicated area for deliveries made by car, van, or trucks that are not dock high. Bring all of your paperwork with you, and our staff will assist with processing your shipment. Additional services we offer include D containers and E containers for sale and shrink-wrap capabilities to help protect your cargo during land and sea transport.
MySeaboard Profile
Create your MySeaboard profile for quick access to manage all your cargo shipment needs. Once your account is active, a wide variety of self-servicing tools are available to help you manage and create bookings, print bills of lading, and view service contracts. Register today and get the most out of MySeaboard.
Less-Than-Container Load (LCL) Cargo FAQs
Check out our easy-to-follow LCL checklist.
Deliver your cargo to our LCL facility in Miami, Florida U.S.
Cargo should be properly packed to withstand both inland and ocean transportation.
Recipient's name, address and final destination should be clearly and visibly marked on all cargo.
Is all your paperwork properly filled out? All orders should be consigned as follows. This includes online orders:
Company or Name of Recipient: Name – Country Destination
Address 1: Account Number
Address 2: 8001 NW 79 Ave
City/State: Miami, FL
Zip code: 33166-9113
Booking Number
Reference #: Purchase Order Number or Order Reference Number
If cargo is pre-booked, please make sure your booking number and contact information is visible on the cargo packaging and all paperwork.
The number of pieces and cargo description information should be provided on the Shipper's Letter of Instruction.
Please send or deliver the Shipper's Letter of Instruction, packing slip and/or Shipper's Invoices along with the cargo.
If you're shipping hazardous cargo or have additional questions about how to ship your cargo, please directly contact your Seaboard Marine representative or call 305.863.4444.
Download this in PDF format: English
Before finalizing your order, please take a moment and look at the order form, reviewing the check list below. The majority of obstacles in the delivery process can be avoided by following these simple instructions.
When using UPS, FEDEX or another domestic parcel shipper and filling out the company or name of the shipment destination, please include the name of the destination country the order is shipping to. Example:
Company or Name: John Smith – Belize
Company or Name: Zig Electronics – Jamaica
In the address fields provided, please ensure the two (2) address fields are as follows:Example:
Address Line 1: Account Number
Address Line 2: 8001 NW 79 Ave
Miami, FL 33166-9113
If your shipment label includes a reference number, please include the Purchase Order number in the provided reference field. Example:
Reference #1: PO# 000258234
Please contact Seaboard Marine at 305.863.4444 if you have any questions.
Additional LCL Cargo Service Features:
Seaboard Marine's bonded warehouse located in Medley, FL is equipped with a dedicated receiving lane for all less than container load cargo. This secure warehouse facility is monitored by 24-hour security personnel and available Monday though Friday 8:00 AM – 5:00 PM EDT for all LCL cargo pickups and deliveries. For all LCL cargo deliveries, please send us a pre-alert of your shipment's tracking number. If you require further assistance, contact your sales representative or call at 305.863.4444.
In the United States, we offer pickup service for delivery to our bonded Miami warehouse for dry, commercial LCL cargo to the markets we serve in the Caribbean Basin, Central and South America. If you require this service, please give us a call at 305.863.4444.
Damaging weather and other hazards make insurance a necessary component for LCL cargo exporters. Seaboard Marine can insure your cargo, underwritten by Seven Seas Insurance Company, for "All-Risk" coverage. The policy is competitively priced with efficient claims procedures, making insuring your cargo an easy decision.
Less-Than-Container Load Equipment
Seaboard Marine offers a large and comprehensive range of dry cargo containers to meet the requirements of every customer. Our modern equipment fleet guarantees a high-quality standard. Details on dimensions and loading capacities of Seaboard Marine's dry containers are provided in the following specifications:
| External Dimensions | | Inches" | Feet' Inches" | Meters |
| --- | --- | --- | --- | --- |
| | Length | 238" | 19'10" | 6.05 |
| | Width | 96" | 8'0" | 2.43 |
| | Height | 102" | 8'6" | 2.59 |
| Internal Dimensions | | | | |
| | Length | 231" | 19'3" | 5.86 |
| | Width | 92" | 7'8" | 2.33 |
| | Height | 93" | 7'9" | 2.36 |
| Door Opening Dimensions | | | | |
| | Width | 92" | 7'8" | 2.33 |
| | Height | 89" | 7'5" | 2.26 |
| Inside Cube Capacity | | | 1,165 Cubic Feet | 32.9 Cubic Meters |
| Ratings | | | Pounds (lbs) | Kilograms (kgs) |
| | Estimated Maximum Gross Weight | | 67,200 | 30,480 |
| | Estimated Maximum Payload | | 62,080 | 28,160 |
| | Estimated Tare Weight | | 5,120 | 2,320 |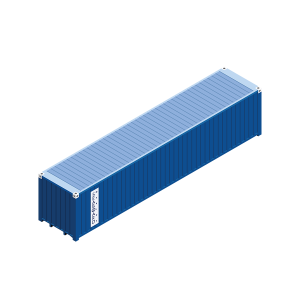 External Dimensions

(shipper owned)

Inches"
Feet'Inches"
Meters
Length
480"
40'0"
12.19
Width
96"
8'0"
2.43
Height
102"
8'6"
2.59
Internal Dimensions
Length
473"
39'5"
12.01
Width
92"
7'8"
2.33
Height
93"
7'9"
2.36
Door Opening
Width
92"
7'8"
2.33
Height
89"
7'5"
2.26
Inside Cube Capacity
2,377 Cubic Feet
67.2 Cubic Meters
Ratings
Pounds (lbs)
Kilograms (kgs)
Estimated Maximum Gross Weight
67,200
30,480
Estimated Maximum Payload
59,000
26,670
Estimated Tare Weight
8,200
3,720
| External Dimensions | | Inches" | Feet' Inches" | Meters |
| --- | --- | --- | --- | --- |
| | Length | 480" | 40'0" | 12.19 |
| | Width | 96" | 8'0" | 2.43 |
| | Height | 102" | 9'6" | 2.89 |
| Internal Dimensions | | | | |
| | Length | 473" | 39'5" | 12.01 |
| | Width | 92" | 7'8" | 2.33 |
| | Height | 93" | 7'9" | 2.36 |
| Door Opening Dimensions | | | | |
| | Width | 92" | 7'8" | 2.33 |
| | Height | 101" | 8'5" | 2.56 |
| Inside Cube Capacity | | | 2,682 Cubic Feet | 75.9 Cubic Meters |
| Ratings | | | Pounds (lbs) | Kilograms (kgs) |
| | Estimated Maximum Gross Weight | | 67,200 | 30,480 |
| | Estimated Maximum Payload | | 58,560 | 26,560 |
| | Estimated Tare Weight | | 8,640 | 3,920 |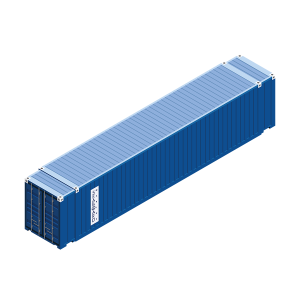 | External Dimensions | | Inches" | Feet' Inches" | Meters |
| --- | --- | --- | --- | --- |
| | Length | 540" | 45'0" | 13.71 |
| | Width | 96" | 8'0" | 2.43 |
| | Height | 102" | 9'6" | 2.89 |
| Internal Dimensions | | | | |
| | Length | 533" | 44'5" | 13.53 |
| | Width | 92" | 7'8" | 2.33 |
| | Height | 93" | 7'9" | 2.36 |
| Door Opening Dimensions | | | | |
| | Width | 92" | 7'8" | 2.33 |
| | Height | 101" | 8'5" | 2.56 |
| Inside Cube Capacity | | | 3,022 Cubic Feet | 85.5 Cubic Meters |
| Ratings | | | Pounds (lbs) | Kilograms (kgs) |
| | Estimated Maximum Gross Weight | | 67,200 | 30,480 |
| | Estimated Maximum Payload | | 56,440 | 26,600 |
| | Estimated Tare Weight | | 10,760 | 4,880 |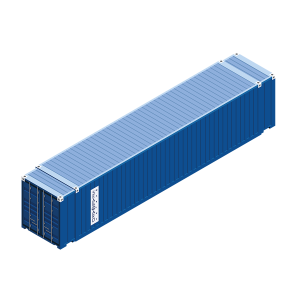 | External Dimensions | | Inches" | Feet' Inches" | Meters |
| --- | --- | --- | --- | --- |
| | Length | 540" | 45'0" | 13.71 |
| | Width | 102" | 8'6" | 2.59 |
| | Height | 114" | 9'6" | 2.89 |
| Internal Dimensions | | | | |
| | Length | 533" | 44'5" | 13.55 |
| | Width | 98" | 8'2" | 2.50 |
| | Height | 106" | 8'10" | 2.69 |
| Door Opening Dimensions | | | | |
| | Width | 98" | 8'2" | 2.50 |
| | Height | 104" | 8'8" | 2.64 |
| Inside Cube Capacity | | | 3,226 Cubic Feet | 91.4 Cubic Meters |
| Ratings | | | Pounds (lbs) | Kilograms (kgs) |
| | Estimated Maximum Gross Weight | | 67,200 | 30,480 |
| | Estimated Maximum Payload | | 55,740 | 25,280 |
| | Estimated Tare Weight | | 11,460 | 5,200 |