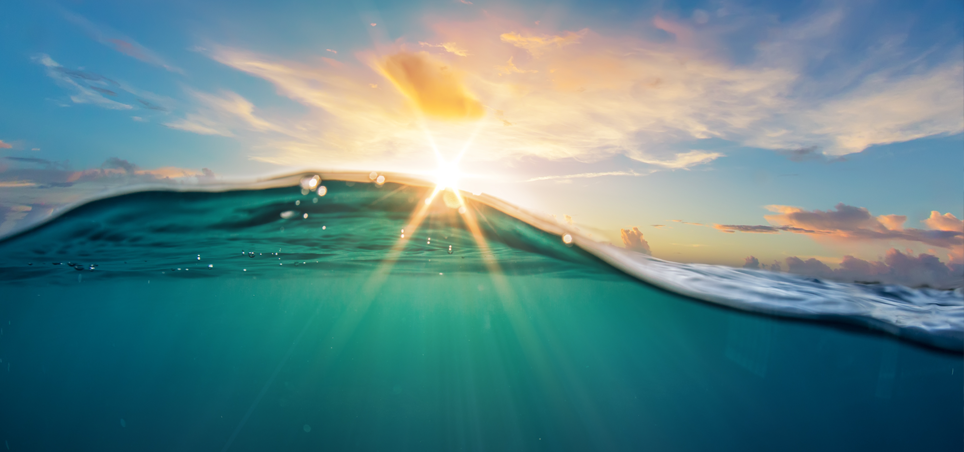 Committed To More Than Good Business
At Seaboard Marine, we take tremendous pleasure in providing unparalleled customer service to thousands of clients across the Americas and the Caribbean Basin. In doing so, we acknowledge our duty to serve the communities in which we live and work. As an essential component in furthering trade throughout the Western Hemisphere, we directly impact the lives of millions of people every day. We welcome this responsibility, which is why we are committed to more than "good business," we are committed to making a difference wherever we go.
Seaboard Marine was built by people with sound character and a long history of excellent commercial practices. With services to more than thirty countries, we continually seek opportunities to improve conditions while reducing our carbon footprint and always committing to positive business practices. As a regional ocean transportation and logistics company, it is vital to understand the importance of being an environmentally aware and responsible company.
Our Response To The Pandemic
COVID-19 has had and will, unfortunately, continue to have an impact around the world. Throughout 2022, our focus remained on providing exceptional service while protecting our dedicated employees. Trade, and the movement of cargo, especially foodstuffs, continue to be a crucial component of the global economy. Throughout our organization, we implemented sweeping changes to our workplace. We encouraged office-based employees to work from home whenever possible. Where feasible, we made modifications to our offices and facilities to help prevent the spread of the virus and implemented new protocols following applicable government health protection agencies' recommendations for prevention and safety measures.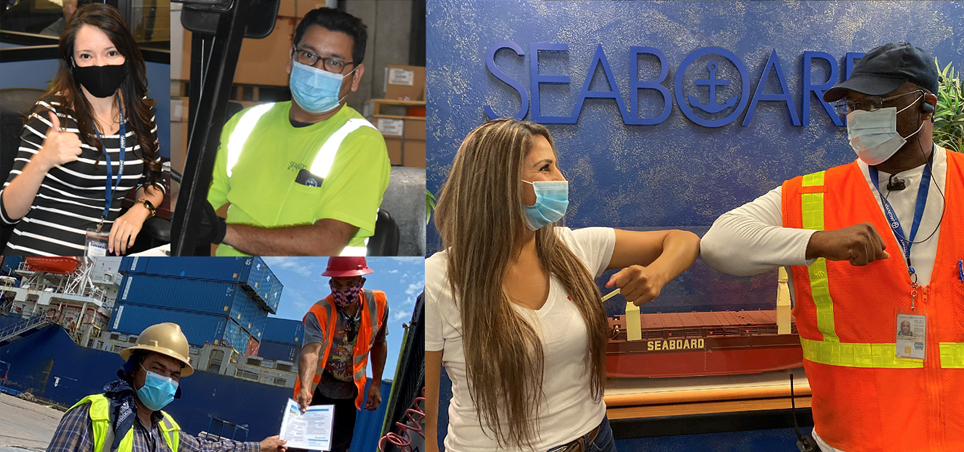 There is an attitude of trust and respect between Seaboard Marine and its customers, employees, business partners, suppliers, and shareholders. That trust and our reputation must be preserved and protected. Everyone in the Seaboard Marine team has a duty to support our goals and objectives and act in a way that will always merit the continued confidence of those who rely on us.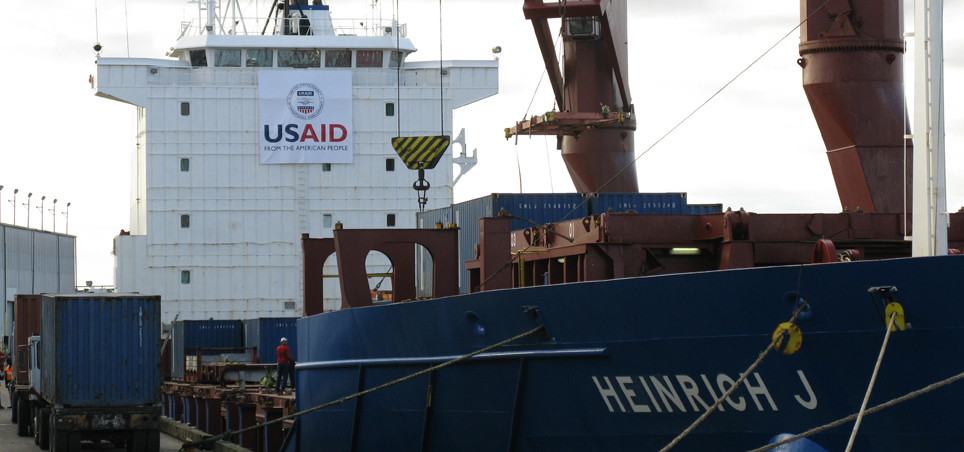 We Give Of Ourselves
In line with our core values, Seaboard Marine is committed to supporting the communities where we live and work. We intend that our principles and long-standing tradition of giving back inspire others to do their part to create a better world. We encourage our employees and business partners to participate in initiatives to support the community. Therefore, we embrace projects involving reputable non-profit organizations working towards helping individuals and the community. Annual support and contributions include donations to Liga Contra El Cancer, Food for the Poor, and the Waterfront Alliance, to name a few.
We are conscious of our carbon footprint and our impact on marine biodiversity. We are early adopters of all regulatory policies to reduce greenhouse gas emissions and improve biological diversity protections.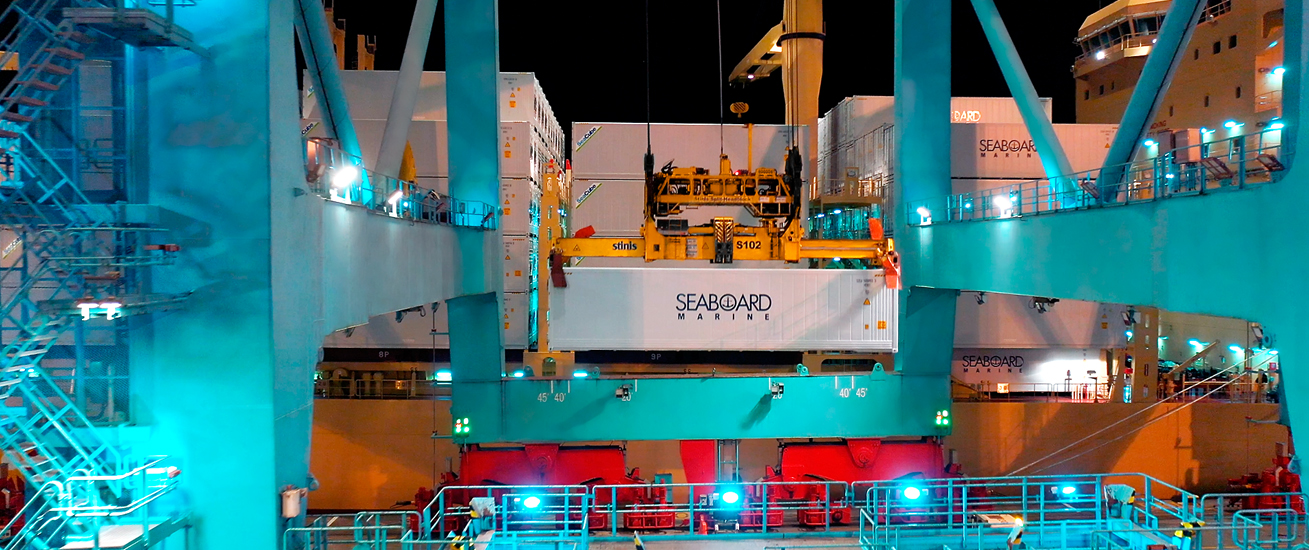 Seaboard Marine is committed to operating in an environmentally sustainable and conscious manner by minimizing waste, diverting it as outlined within our recycling program, reducing energy usage, and monitoring progress with continued review of our environmental performance.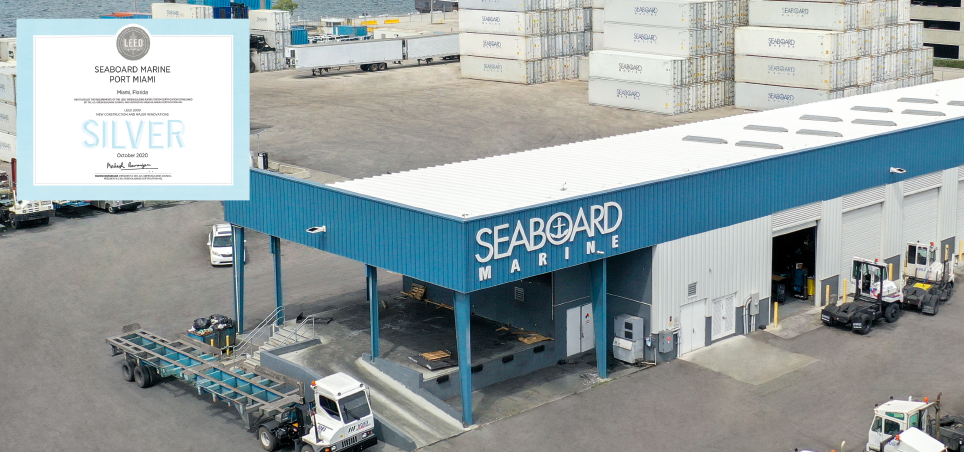 LEED Certification
In 2020, Seaboard Marine's PortMiami Maintenance and Repair facility received a Silver LEED certification. Leaders across the globe have made LEED the most widely used green building rating system globally. LEED certification provides independent verification of a building's green features, allowing for the design, construction, operations, and maintenance of resource-efficient, high-performing, healthy, cost-effective buildings.