The Recruiting Process: How To Apply and What To Expect
The first step in being considered for a career opportunity with us at one of our U.S. facilities is to apply for a position that suits your interests and qualifications. You may then submit an online application. If a position of interest is not available, you may stay updated by signing up for our weekly job advisory, it will inform you of all new positions as they are posted.
Subscribe to U.S. Job Openings
The Recruiting Process: Step-by-Step Guide
Click on the title of the position of interest to view the full job description. You may begin the application process by clicking on "start your application" at the beginning and the end of the job description page.
Once the application page opens, you will first fill in your name and provide an email to set up your profile before you move on to uploading your resume. You will be asked if you would like to be considered for other positions now or in the future, if so please select "yes" on that section of the application. On the second page you will upload your resume/cover letter and lastly on the third page you will be able to fill in your personal information and work history.
Once you have completed all the application fields, fill in your name and date, and click on the check box under "Please confirm you read and understand all the above" at the bottom of the application. A confirmation page will pop up confirming receipt of your application. If you do not receive a confirmation, we likely have not received your application. You will also receive an email confirming the receipt of your application and it'll prompt you to create a password to finish setting up your profile.
This process starts when you have submitted your application online and have received the confirmation page. Once a recruiter reaches your application, you will receive an email to continue the next step of the process and complete pre-screen questions. You will receive an email inviting you to complete this second portion. A recruiter reviews applications in the same order they are received. If the application meets the desired position requirements, a recruiter will be in contact with you to coordinate the next step in your consideration.
If a Seaboard Marine recruiter contacts you, you are among a shortlist of qualified candidates and will proceed to the next phase in the hiring process. The next step in the process consists of skills assessments, phone interviews with Human Resources, and interviews with the management team. This phase of the hiring process can take up to three (3) weeks to complete as we thoroughly vet applicants to ensure the best match.
The most suitable candidates are reviewed by the hiring manager before reaching a decision. At this phase, Seaboard Marine may opt to obtain references from your prior employers before a decision is final.
Congratulations, you are being selected for a position at Seaboard Marine. You will receive an email from the recruiter who has been in contact with you throughout the process to extend an offer for employment. Should you accept, you will begin your onboarding process, which consists of a formal acceptance of the offer and pre-hire meeting with a Human Resources representative.
Disclaimer: It is the policy of Seaboard Marine not to solicit offers of employment in the absence of an online application. Seaboard Marine will never contact you with an offer of employment without directly interacting with a Seaboard Marine recruiter following a completed online application for the desired position through our website or weekly job advisory. Personal information is required within the online form. We will never request personal information via email. There are no processing or application fees associated with any official employment opportunity from Seaboard Marine.
If you are unsure concerning an offer for employment, please contact us directly at 305.863.4444.
View additional career opportunities with our affiliated companies: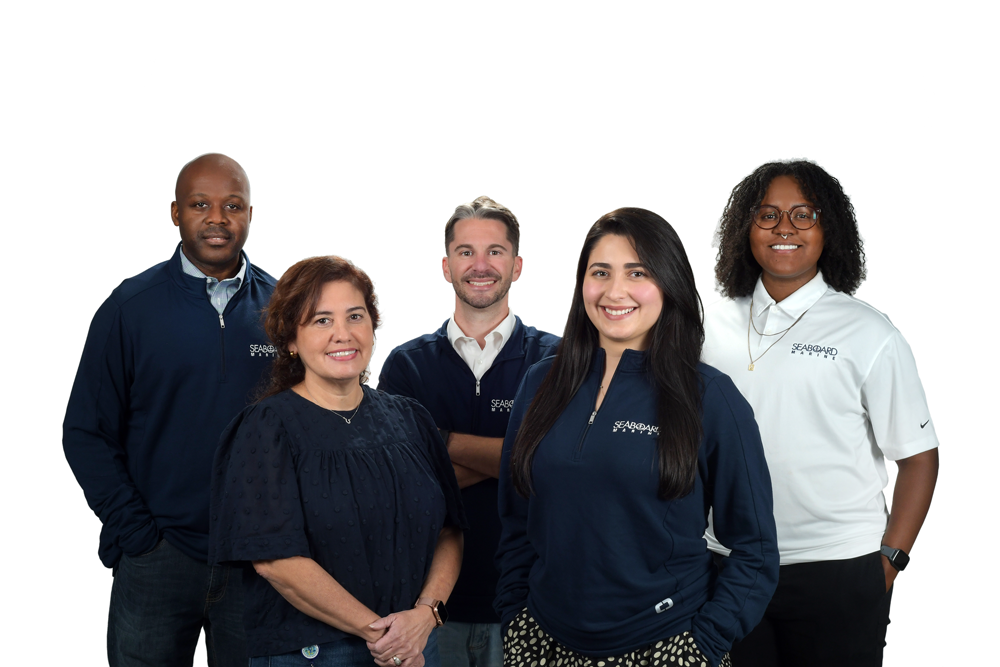 Seaboard Marine is an equal opportunity and affirmative action employer.
It is the policy of Seaboard Marine to provide equal employment opportunity to all persons consistent with employment requirements and qualifications, and to insure that there shall be no discrimination because of race, color, religion, sex, sexual orientation, gender identity, national origin, disability status, protected veteran status, or any other characteristic protected by law.
If you are a qualified individual with a disability or a disabled veteran, you have the right to request a reasonable accommodation.
If you are unable or limited in your ability to use or access our online registration center as a result of your disability, you can request reasonable accommodations by sending an email to accommodations@seaboardmarine.com
All employees must pass a pre-employment background check and drug-test. Seaboard Marine is a Drug Free and Alcohol Free Workplace.