The newly-built M/V Seaboard America, with a nominal intake of nearly 1,600 TEUs, made its first port call this weekend at the Port of Miami.
Built in China at the Shangdong Haunghai Shipbuilding Company ("Shangdong"), the America joins three other sister-ships in the Seaboard fleet that were also built this year. The M/V Seaboard Pacific, M/V Seaboard Chile and M/V Seaboard Peru were also built at the Shangdong factory. All four ships have a deadweight of 26,500 tons with three cargo cranes. These multi-purpose vessels have a flexible tweendeck configuration that allows for a variety of heavy cargoes and containers. The relatively low draft (9.5 meters) for ships of this size allow for berthing the America and her sisters in a broad variety of ports that normally have draft restrictions.
In its initial voyage, the America carried to Miami a mix of 682 new containers with an emphasis on flatracks, refrigerated containers and 45'x102" over-width containers. Those containers, all built in China to demanding Seaboard specifications, were quickly discharged and are being immediately being absorbed into the Seaboard fleet for the benefit of customers.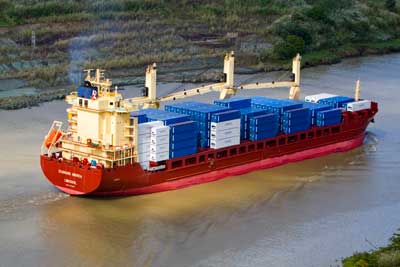 Edward Gonzalez, Seaboard Marine President said, "The addition in 2010 of these four vessels into our fleet is a major step toward meeting growing customer needs, particularly in Ecuador, Peru and Chile. With cranes that have a lifting capacity of 120 metric tons each (240 metric tons combined), we will be able to handle all types of project cargoes as well as containers. Having four of these faster and larger vessels, all new and with excellent fuel efficiency, will improve the reliability and capacity of our services to the West Coast of South America."